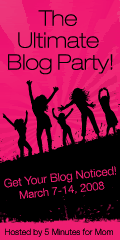 Welcome to our party! We are three women in different life stages with a passionate love for books! Here at the Nook we offer reviews, book news, and tips for reading with your children. We are:
Sally–the mom, granny, and second grade teacher who gave us our love for books!
Leah–the stay at home mom and wife who also lives in Costa Rica!
Amy–the single girl who teaches reading improvement to adults
We are all voracious readers and if you are too, I think you'll love hanging out with us here. So treat yourself to some coffee or chai and settle in for a cozy time in the Nook! If you like what you see, be sure to check out our March contest!
This post was written byAmy and is filed under Announcements. You can follow any responses to this entry through the RSS 2.0 feed. You can leave a response, or trackback from your own site.